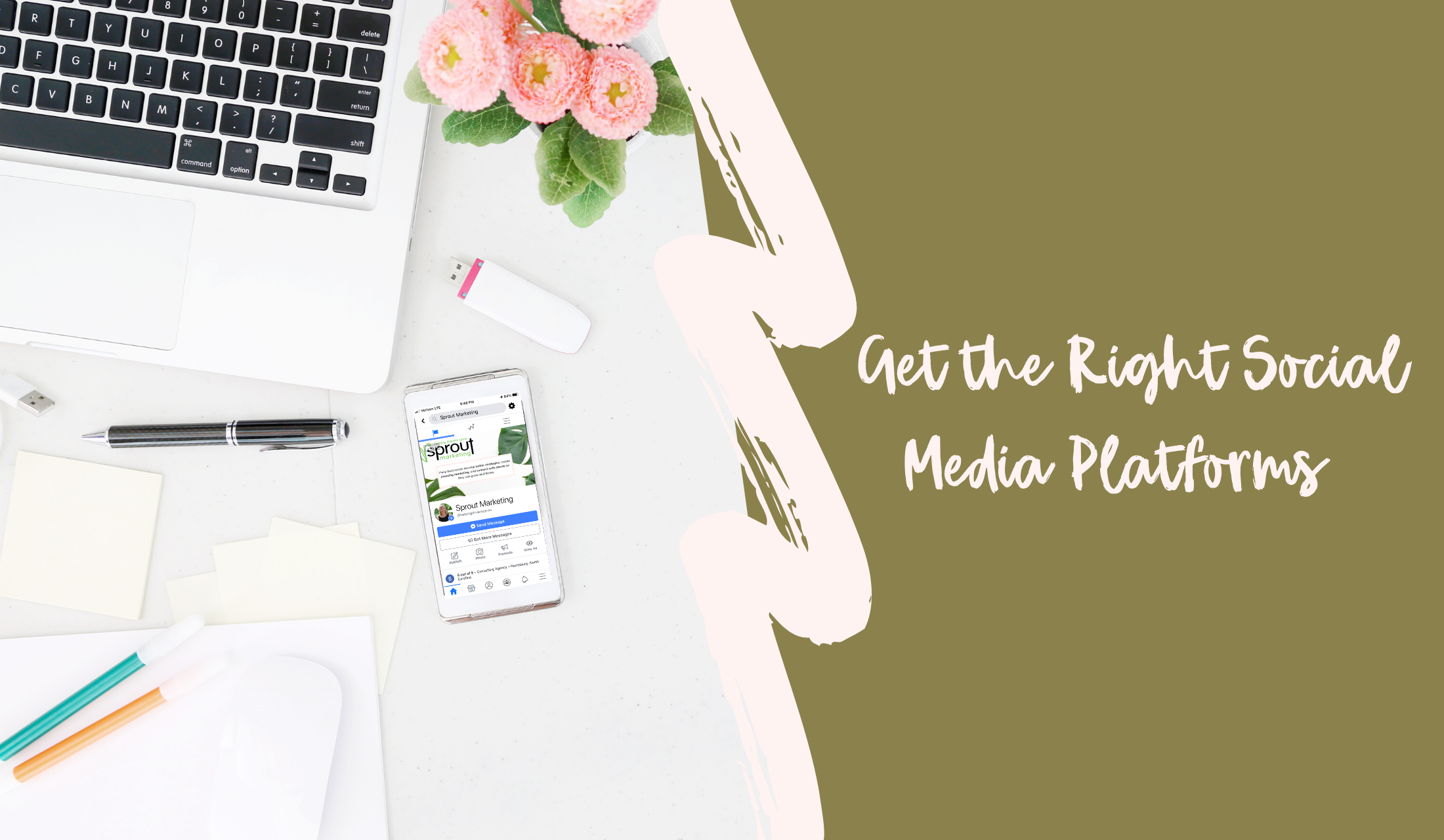 When you started your business, social media was like a bright shiny object. You jumped on every popular social media platform, secured an account, set up a profile, and published a few posts. Then, months passed. 
What happened? Overwhelm set in. With so many platforms to update and content to curate, nothing got posted. That's ok, my friend, it's happened to me too, and I work in marketing. In reality, there's only so much time, money, and resources. But if you prioritize platforms that are right for your business and balance the ingredients to success, you'll win at social media. 
Social Media Platforms
First, you need to know the top platforms available, who uses them, and why to determine if they're a fit for your business. Let's dive in.   
Facebook
Facebook is by far the most extensive network with more users than any other site. Also, this Pew Research data illustrates Facebook as the leader in usage by the percentage of U.S. adults. So not only is Facebook the leader but by large margins. 
The only other site that comes close is YouTube — owned by Google, this site functions as a search engine for watching videos. Next comes Instagram. Oh, and Facebook owns Instagram – how convenient. That gap in usage is over thirty percent, with Facebook as the lead. 
Who's Using Facebook?
A higher male demographic than female
All ages, with more in the 25-35 age range
82% of college graduates are on Facebook
75% of users earn more than $75k
Facebook is the biggest social network worldwide
User Habits Include:
36% of people get news from Facebook
The average time spent on Facebook is 34 minutes per day
81% of Facebook users only access it on mobile
Facebook is the 3rd most visited website
1.3 billion people use Facebook Messenger
Facebook statistics show the masses are on this platform. For smaller businesses with limited resources, Facebook is often the chosen channel. 
However, their organic reach (the number of people reached without paying for it) of only about 6.4% of page likes per post can make it challenging to connect with a large audience. Of course, fantastic content that serves your audience and tackles why they visit that platform can beat the averages on organic reach. 
So, Why do People Visit Facebook? 
Connect with friends, family, or other communities
Entertainment or to pass the time
Learn about or meet new people
Stay up-to-date on news
Share personal information or content
Find information on products or services
Notice, all but one reason involves a business reason! Am I the only person who opens up their Facebook app in hopes of being sold that perfect monogrammed outfit for their baby? Just kidding, it's the result of seeing an ad. 
All kidding aside, think about the last time you engaged with a brand on Facebook and why. Was there value in it for you? Of course! If not, you'd keep scrolling and check out photos of your friends' kids, puppies, kittens, or quotes that make you laugh aloud.     
Instagram
The popularity of Instagram has grown, as shown by the Pew Research data above in usage. People love getting lost in those perfect square images scrolling through their screens.     
Who's Using Instagram?
51% of users are female
72% of teens use Instagram
71% of U.S. businesses claim to use Instagram
71% of U.S. adults 18-29 use Instagram
There are 500,000 active influencers
User Habits Include:
70% of shopping enthusiasts turn to Instagram for product discovery
Posts with at least one hashtag average 12.6% more engagement
Users spend 30 minutes a day on Instagram
60% of people say they discover new products on Instagram
50% of users go to the explore page every month
There's no denying that Instagram statistics show this platform sways heavily toward a younger generation. However, it also shows that people love this app for its beautiful photos, videos, and the ability to discover new ideas, people, or things. 
While users are more open to discovering brands using the app, it has to be something that sparks their curiosity, solves a problem, or adds beauty to their life. So, if you can curate highly visual media showcasing your product or service targeting this audience, Instagram may be the right place for your brand. 
Twitter
Twitter is an established social networking platform and known for its friendly bird icon.  
Who's Using Twitter?
52% of users access the app every day
42% of users have a college degree
29% of users are between 25 to 34 years old
1 in 5 U.S. adults use Twitter
Twitter is the top social network in Japan
77% of Americans who earn $75k or more use Twitter
User Habits Include:
Twitter is the preferred social network for news consumption
19% of people will unfollow a brand on Twitter based on poor hashtag usage
85% of small and medium business users use Twitter to provide customer service
44% of all Twitter accounts have been created and left without ever sending a Tweet
The statistics for Twitter overwhelmingly show that users are looking for news and to discover things. They also use it to share service issues with brands.   
If your business doesn't provide frequent updates and something new and interesting, you may want to consider if it's the platform for you. You can be on Twitter to answer customer service inquiries and not post content. However, don't post just to post. Also, if you don't have a process to respond to customers, pull the plug on the platform until you do. It will cause more damage to your brand if you aren't ready to handle customer comments.
LinkedIn
LinkedIn is the largest networking platform for professionals.        
Who's Using LinkedIn?
57% of users are male, and 43% are female
The group with the most users is between 25-34 at 60.1%
The average income of a user is $46,644 per year
More than 74% of users are outside the U.S.
User Habits Include:
80% of B2B leads come from LinkedIn
92% of B2B marketers include LinkedIn in their digital marketing mix
40 million people use LinkedIn to search for jobs each week
3 people are hired every minute on LinkedIn
More than 95% of recruiters use LinkedIn regularly
A company's employees account for 30% of its total engagement
Given the statistics on LinkedIn, if you're a B2B company, it's likely an excellent platform to provide thought leadership, share content, connect with clients, and even recruit and retain top talent. B2C organizations often lead with recruitment and retention as their prime goal and demonstrate their employee value proposition on LinkedIn. 
Pinterest
Do you use Pinterest to find new recipes, party ideas, or decor? While it's perfect for that too, it provides so much more.
Let's first start with what it's not and how it works. Pinterest isn't a social networking platform. People aren't looking to find new friends or see their friend's kid's latest school picture. Instead, they want to discover or learn something new or be inspired. 
Pinterest works like a search engine. You type something you want to discover or explore into the search bar and hit go. The result delivers Pins that closely match the phrase or keywords you used. It also gives alternative phrases you might want to explore. 
When you create a Pin, you can include keywords in the description to help people find your Pin. Plus, it allows you to add a link back to your website. 
Who's Using Pinterest?
77% of users are female
The median age of a Pinterest user is 40
80% of U.S. mothers who use the Internet use Pinterest
50%+ Pinners live outside the U.S.
34% of users earn between $50k and $75k per year
User Habits Include:
Ideas are the primary reason people go to Pinterest
90% of weekly Pinners make purchase decisions on Pinterest
77% of weekly Pinners have discovered a new brand or product
A call to action Pin description can increase engagement by 80%
Images lacking faces get repined 23% more than images that contain faces
97% of most queries on Pinterest are unbranded
The statistics for Pinterest are hard to ignore if you're a business trying to reach female Generation Xers in the United States with a higher than average household income. Of course, you need amazing content they're searching for to show up on their feed – no pressure. 
YouTube
It's where people go to watch videos or TV. Sometimes they don't even know what they want to watch, but hours can pass before even realizing it. Does this ever happen to you? 
Who's Using YouTube?
56% of YouTube users are male
95% of 18-29 year-olds in the U.S. use YouTube
Services are available in more than 100 countries
User Habits Include:
Users spend an average of 18 minutes daily on YouTube
75% of adults turn to YouTube for nostalgia rather than tutorials or current events
51% of users say they visit the site daily
YouTube is the second most visited website in the world
20% of users will leave a video if it hasn't hooked them in the first 10 seconds
By 2025, it's predicted that 50% of viewers under 32 will not subscribe to the paid TV
Like Pinterest, YouTube functions on search and is technically the second largest online search engine globally. Of course, Google owns it. If being found through search is vital to your business, this feature could help new customers find you.
The statistics on YouTube make it enticing to incorporate into your business. So, what's the catch? You have to create video content that users want to watch. It doesn't have to be professionally filmed and edited, but it must connect with your audience. 
Snapchat
Known for "snaps" that live for a short time, users love this feature, while businesses find this an ultimate barrier. But first, let's find out if it's a platform that makes sense for your business.   
Who's using Snapchat?
The U.S. has the most users, followed by India
69% of U.S. teens say they use Snapchat
About 58% of users are female
User habits include:
Daily, users spend over 30 minutes on Snapchat and send 34.1 messages a day
95% of users say the app makes them feel happy
1.5 million+ lenses have been launched to date
Snapchatters often use the platform as a mobile messaging app, similar to texting. Also, selfies are a big draw too. 
The Snapchat statistics show this platform as a strong contender if you're targeting teens, young adults, or college students. However, if that's not your audience, then spending time creating "snaps" that disappear probably isn't the best use of your time and resources.   
Prioritize Social Media Platforms
Now that you know which platform is right for your business, list them in order of importance. Start with which one shows the most opportunity in aligning with your ideal audience. This is key as you assess your resources, capabilities, and budget.   
Assess Your Resources
Who will be managing social media daily? Someone needs to receive notifications, answer comments, and engage on every platform your business participates in. This could be you, someone on your team, or you outsource this task.
This person must have time to devote to making social media successful. Developing a strategy, planning content, curating content, creating copy, posting, and engaging with an audience takes time and skill. You won't get the results you want with any warm body available for the task.
How much time does it take? Well, that depends. The more platforms you engage in, the more time it takes. The larger your follower base grows, the more time it takes to respond to comments and provide service. Also, if you post content frequently, the more time it requires to create content.        
In addition to time, running social media takes skill. First, this person needs to have a passion for the task. Passion oozes into everything you do, and if it's a "must-do" checklist item, it shows on social. Besides a love for social media, here are a few other skills to look for:
Ability to keep up with trends
Copywriting, photography, and graphics 
Personality and sense of humor
Knowledge of the platforms and best practices for success
The last point combines passion and skill. The person managing your social media may have a "preferred" platform that they enjoy using and are good at managing for a business. Does this align with the needs of your business? If not, keep looking for the right person to manage it.      
Set a Budget
The biggest myth in social media is that it's free. No, I'm not talking about running paid ads, but you could do that too. It takes time and resources to create all the pieces that go into making it a success. Besides, who has time to do it all alone? Not me. 
Areas you might invest in and set a budget for include:
Copywriting
Graphics
Photography
Video
Strategy
Management
Customer service
Reporting
Leave Peer Pressure Behind
Don't get caught in the comparison game of what social media platforms your competitors have. Just because they use a platform doesn't mean you should too. If you look at their profiles, you might find that they aren't successful at any platform. Is that what you want for your social media? No! Ok, good.  
Participating in too many social media platforms is the biggest mistake I see small businesses make. They don't account for the resources, including the time and money it takes to do it well. 
Even worse, it's perceived as a free place to advertise. Have you opened Instagram lately because you can't wait for a brand to sell you something? That's what I thought, me either.
I say start small with one or two of the top platforms that's right for your business. Then, growing and adding more later is the easy part.   
Ready, set, grow!
All my best,