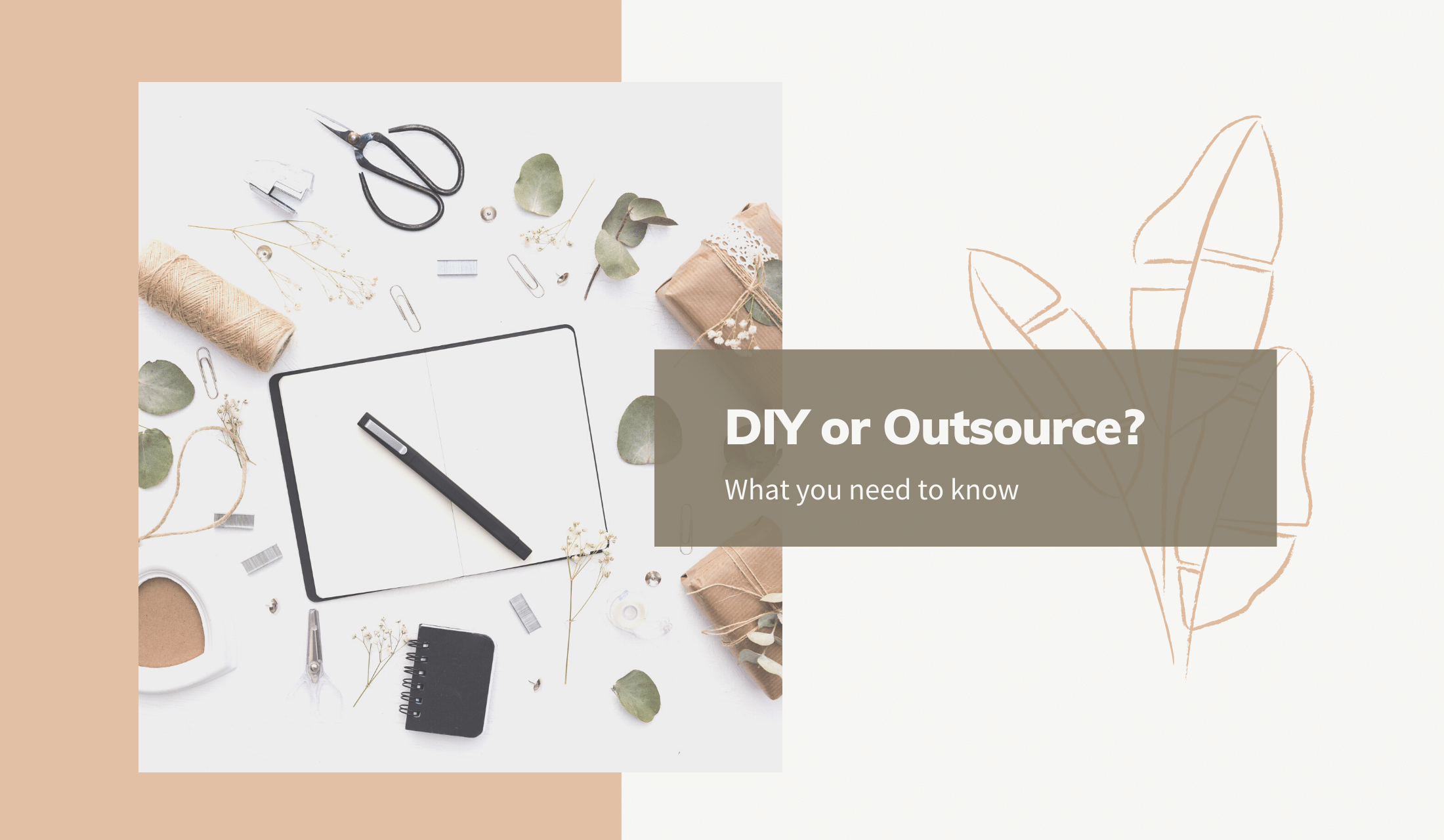 DIY is everywhere. From Home Depot to Pinterest-inspired boards on almost anything you can do it is the message. Even Nike inspires you with their motto – "Just Do It."  But does this mean your marketing too? Or, would your business benefit from outsourcing marketing to a trusted expert? 
Over the last two decades, especially with the rise of digital, marketing has evolved drastically. From printed sales flyers, tri-fold brochures, and posters to digital ads targeting consumers based on browsing history or location, social media platforms can help you build an authentic relationship with customers.
Now, I'm not saying printed materials are a thing of the past – far from it. However, there's a time and a place for everything, including when and where to use a specific marketing channel.
So, what's the problem? Determining the right marketing channel based on your business goals and being effective with each one is the challenge. Not only do you need to have mastered the strategy, but the tactical expertise to execute.    
That's where the beauty of outsourcing your marketing comes in. Get the best for your business when and where you need it. 
Who can you Outsource your Marketing to?
An agency is one option. Some specialize in specific areas such as branding, digital marketing, or social media, and larger agencies offer multiple services and a one-stop solution for all of your marketing needs. While convenient, remember you'll often be paying a higher retainer or fees for each project for this convenience. 
If you're working with a smaller budget, you may need to outsource using a combination of contractors, freelancers, consultants, and maybe even a smaller, more specialized agency. For example, it's not uncommon to have a freelancer implementing your social media, a consultant providing strategy and managing your marketing plan, a graphic designer on contract, and a small digital agency for your website development and digital ads.
These roles are becoming more and more popular. A recent study shows a whopping 35% of the U.S. workforce now freelancing – 10 million more than five years, and that's expected to grow. Workers enjoy a flexible schedule to care for themselves, young children, or loved ones, and the many other perks with the role. In addition, advances in technology make it possible to work remotely. So it's a win-win for both parties.       
Signs it's Time to Outsource
 "Signs, signs, everywhere are signs." Yep, it's hard to ignore. You need help with marketing if you're seeing the following:
You or your team don't have the right expertise. Unless you're a megabrand like Home Depot or Nike, your marketing department and resources are probably lean. In addition, you may not have a subject matter expert on staff for every marketing function you need. Professionals you can hire have dedicated skills and expertise often in Google ads, Facebook ads, SEO, e-mail, copywriting, web design and development, tradeshows and events, graphic design, photography, videography, digital advertising, and proposal development – to name a few.  
Even if you have a jack-of-all-trades marketing person on your team, there's probably an area that's not their strength. That's an opportunity to add that skill to your business and reach your goals.
The workload doesn't warrant a full-time role. Now, imagine if you had to hire a full-time person for each function identified above. That's a lot in salary, taxes, and benefits you're directly adding to the payroll. And, is it even needed 40 hours a week? For smaller and medium-sized businesses, the answer is – no. So, if you don't have enough work for a full-time role, outsourcing your marketing is the answer.    
You're not reaching business goals or getting the results you need. Several reasons may cause this to happen. An expert can uncover hidden opportunities, discover untapped resources, and see your business differently. Enlisting help can get you to the promised land quickly and efficiently, so you can focus on what you love. 
Projects are always behind. Time is of the essence, and being first to market is critical. If you miss opportunities or can't connect with your audience in time, it can lead to lost sales. When marketing projects frequently run behind or get eliminated because of the lack of time, adding support will bring more hands on deck to keep things moving forward.   
There's too much work for your team. When you know you should be focusing on marketing, but everyone is already drowning in the day-to-day operations, you need help. Adding the extra support will get new projects started and keep them going without any distractions. 
It can be easy for an internal team to get side-tracked by other priorities or emergencies. Hiring an expert to accomplish a specific task ensures it gets done, regardless of what comes up.    
Your marketing isn't the best representation of your business. Is your reaction, "Gosh, that isn't exactly how I envisioned it, but it'll do in the meantime?" At least it's checked off the list. Right? Well, maybe. You may skimp in the marketing department when you're just getting started or don't have the budget or time. And sometimes, that works for a while. 
But if you don't love what you're putting out into the universe, it's time for a change. Your business deserves to come to life exactly how you dreamed it would.    
Also, if you've outsourced before and the quality delivered was terrible, you can feel burned. That doesn't mean you shouldn't outsource again. To help avoid this from happening, be sure to check references, review their portfolio, and ask about the longevity of their team members. High turnover is a red flag, and be sure to talk to previous clients. You'll be surprised by what they'll share over the phone.
You could better serve your customers. We get it. We're all here for another purpose, and when you're helping others and doing what you're passionate about, that's when the real chemistry of your dream happens. When you miss an opportunity to serve your customer, the impact felt can be profound.    
Benefits of Outsourcing your Marketing
More time.  How much time in a typical week are you doing what you love? If you answered not as much as I would like to, then outsourcing can give you critical time back in the day. So, handing over the marketing reigns to someone else can free up your time so you can do what you love.
More money. Adding headcount can be costly, especially if the workload doesn't equal 40 hours a week, and don't forget paid time off, benefits, development opportunities, excreta. Many small and medium-sized businesses don't have a budget for a full-time position. Outsourcing helps them save and budget for the exact resources needed. That way, you get the marketing support you need to increase sales and leads.  It's an investment in the growth of your business. Then, as you scale your business, you can always add to your team.
Outsourcing allows you to get a higher caliber of marketing professionals and a team of experts. There's a war for top talent, and your dream deserves nothing but the best.  
Perspective. A fresh perspective is truly refreshing. You and your team are living it, breathing it, and dreaming it day in and day out. Unfortunately, being too close to the work that needs to be done can prevent you from seeing what's closest to you.   
All-Access

– Get exactly what you need. Maybe you or someone on your team are good in certain areas but need just a little refining or outside input on something specific. You can cherry-pick the activities that are right for your business and leave the rest.      
Should you DIY or outsource your marketing? The choice is yours. Your dream may not be showing any signs that it needs help. Phew. Sigh of relief. And if it does, make sure you set clear goals that can be achieved with the assistance you'll be getting.
And know that even when you outsource, you'll need to participate in your marketing progress by providing feedback, expertise on your business, and approval on final projects. It won't be successful without a collaborative effort.
Have you ever outsourced your marketing? Leave me a comment and tell me who you outsourced to, what the project was, and how was your experience?       
Ready, set, grow!
All my best,