You've looked everywhere for a simple guide on keyword research and come up short. A lot of information exists – mostly tech-heavy. And if you're like me, your creative self glazes over. Finding keywords for SEO doesn't have to be hard – I promise. 
Now, imagine teaching a class of college juniors and seniors how to do keyword research. Scary – right?  As an adjunct professor, I did what any teacher would do. I cracked the code on how to make it simple. And, I'm sharing my tips and tricks on how to do keyword research for SEO to help your rankings because any little thing you do for SEO helps.
If you haven't read my post on SEO basics, start there. I cover everything you need to begin with search engine optimization. Which, I bet, is why you're here anyway!   
What is a Keyword Phrase?
The dictionary defines a keyword as a word or concept of great significance. So let's break it down. That means a word or phrase (several words together) embody an important idea, thought, or topic. Simply, it describes the main focus of the content in one, two, or more words.
Find Balance  
You're writing for your audience. If you're writing content for what's important to you, your readership may not grow. So balance writing content for people and search engines. Remember, it has to be interesting to people for them to read your content. 
Why is Keyword Research Important
Start by discovering what your audience finds valuable and creating content for them that contains keyword phrases. Valuable topics or ideas are ones that people are looking for, things they need to know, or a pain point they need to solve. 
Keyword research helps people find your content and validates that people actually look for your topic. People type words and phrases into Google's search bar. And, you might have what they're looking for if you conduct keyword research. When you optimize a website page with keyword phrases, that tells Google what your page is about and helps you show up in the search results. You work too hard on your content for it not to be found. Win, win.       
When do I Conduct Keyword Research?
Do keyword research for any page on your website that houses content that people might search for. Topics or areas that browsers typically don't search for include community service projects, sustainability reports, company news, or vision and mission statements.  
When's the last time you searched for this type of information? Maybe when you were in school, applying for a job, buying stock options, but other than that – the occasion is rare. Of course, mega brands receive searches for this information for those reasons, but I guarantee these pages are not their top pages.          
Know the Different Types of Keywords
General keywords consist of one or two words together. Think of words like a sweater, t-shirt, or even a long-sleeved t-shirt. While the phrase long-sleeved t-shirt is longer, it only describes two things about the item. For example, a search for a long-sleeved t-shirt looks like this: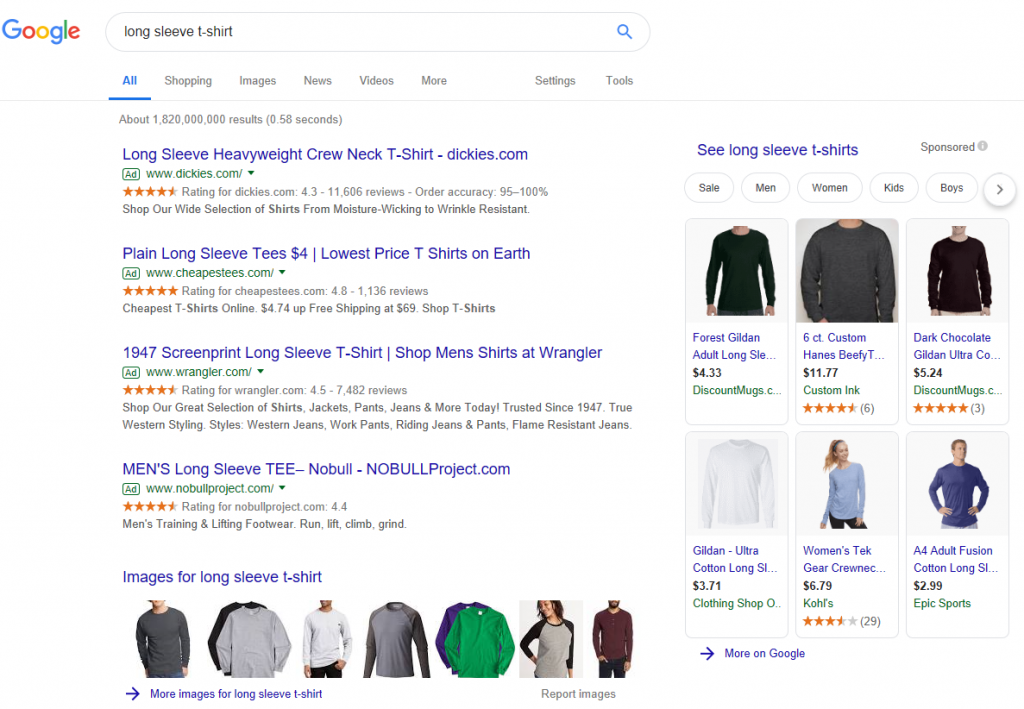 Yep, it's a hot mess, and Google's trying to figure out what you want. So, what do you want to discover about that long-sleeved t-shirt? Female shirts? Lowest price? Or cotton material? The extra words create the long-tail keyword phrase. A long-tail keyword is a keyword phrase that contains at least three words. They help a user find what they're looking for faster. 
Let's try the words "cheap female long-sleeved t-shirt."
Because of the amount of competition, general keyword phrases are often hard, if not impossible, to rank for. On the other hand, they're attractive due to the high amount of website traffic they receive. However, if you never rank for them, what's the point? Long-tail keywords may receive less traffic, but you have a better chance of ranking for them and being found. 
Instead, I'd use a keyword phrase where I had a good chance of getting in front of 200 potential visitors on the first or second page of Google than being on page 30 for 25,000 potential visitors. Of course, no one visits page 30 of Google search results – ever.
Finally, a negative keyword means the opposite of what you're referring to. For example, a negative keyword phrase for women's long-sleeved t-shirt is men's long-sleeved t-shirt. This is helpful if you're paying for Google Ads and want to ensure your ad doesn't pop up for the wrong audience. You'd hate to be Apple and pay for an ad when someone's searching for organic apples – not the same thing! 
Now that you've got all the essentials down, it's time to build a list.     
How to Build a Keyword List
1. Brainstorm
Think like your customer. By far, this is the hardest step. Why? You're not the customer, and you're too close to your product or service. Plus, internal or industry language feels familiar and comfortable.      
So, how do you mimic the language your customers use? Ask them. Conduct a survey. Ask colleagues working directly with customers like your sales or customer service department. Read reviews. Read comments on social media channels. The idea is to capture words and phrases they would use.
Also, consider the buyer's journey. That's where a customer moves from awareness to consideration, and finally, the decision stage to purchase a product or service.  Keyword phrases change as the customer moves through the process because their research process changes. 
For example, a customer may search types of long-sleeved t-shirts in the awareness phase. Then, men's cotton long-sleeved t-shirt while in the consideration phase. Finally, men's cotton long-sleeved t-shirt at Target in the decision phase. Then, you use brand names when you're ready to buy.
2. Search for Alternatives
Use Google to give you suggestions, but beware of being too general. Add an adjective or description. Change it up. You can try several different alternatives until you have an expanded list.    
3. Expand your Keyword List
Discover what your audience finds valuable. Use suggestions from your research to expand your list. Suggestions could be for your topic now or another article later. I love the surprise of finding new topics or ideas. If people are already searching for it, there's a good chance what you create provides value for your audience. 
Looking at our long-sleeved t-shirt example, "template," "for sale," "mockup," "with pockets," or "design" could be added to your list. This makes it a long-tail keyword phrase.  Choose relevant words and use Google to get suggestions on that phrase.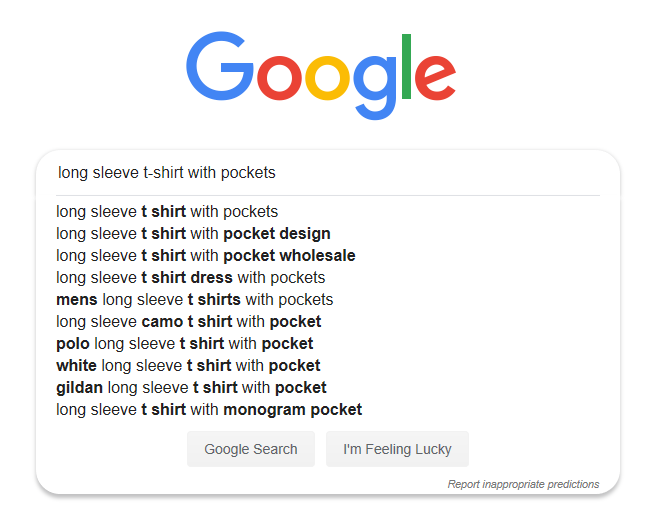 Does the pocket have a monogram on it? Is it sold wholesale? Your search could even inspire new products and services you want to offer. 
4. Use a Tool
Now that you have your list, it's time to use a tool. A keyword research tool helps determine keywords that have the best opportunity to rank. I've used many keyword research tools, such as Google Keyword Planner or Moz Keyword Explorer, but my favorite is Neil Patel's Ubersuggest. Best used in Google Chrome, this tool is superior. It's free for the first few uses. Also, you can download the Ubersuggest Chrome extension to get results for every search you conduct.       
Here's why I love this tool:
It's easy to use and read the results
It tells you if the keyword is competitive, hard, or easy to rank
It provides other keyword ideas by volume
It suggests articles that use the keyword and their established visits
The domain feature gives you the site's monthly organic traffic, top pages, top keywords, and more
The tool stays up-to-date with new features and add-ons
Using our long-sleeved t-shirt example, here's how it works. Type the keyword into the welcome screen search bar; the first result is the keyword overview. Long-sleeved t-shirt has high monthly search volume, the SEO difficulty is hard with a lot of competition, and there's only a 38% chance to rank in the top 20 – typical results for a general keyword phrase.
Now, let's try long-sleeved t-shirt with pockets. "Long-sleeved t-shirt with front pocket" is the suggested phrase with 170 as the monthly search volume. It's easy to rank with a 100% chance of being in the top 20. It's better to be found by 170 people than none. Therefore, it has good potential as a long-tail keyword. Also, you can see other brands using this keyword phrase and the pages that rank for it.      
A few tips to keep in mind:
Google knows when you're using word variations, such as a long-sleeved t-shirt and long-sleeved t-shirts.
Review keyword phrases your website already ranks for. For example, Ubersuggest provides this analysis in the domain research feature, or Google Search Console provides the information under the performance tab.     
Use the domain feature of Ubersuggest to research competitors. It's always good to know what the competition is doing. 
You're ready to write that blog post or sales page for long-sleeved t-shirts with pockets as the topic. 
Now, you can research your keyword phrases for SEO with ease. Did this article help you with your keyword research? I'd love to know. Leave me a comment, and I'd be happy to help. 
Ready, set, grow!
All my best,