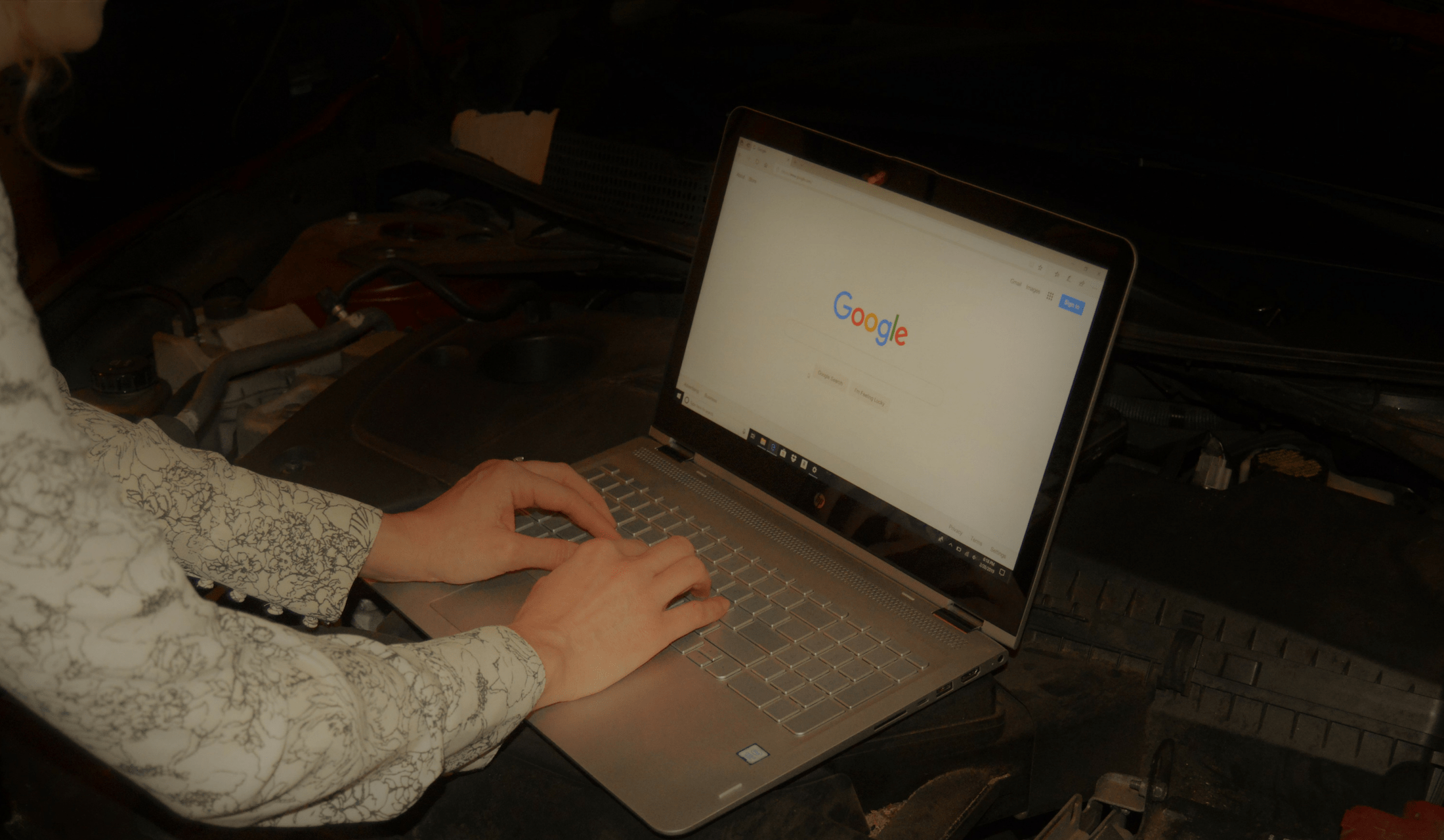 It's there when you need it to answer your most burning questions, quickly and easily. Yep – we're talking about Google. So then, why is it so hard for your website to rank on the first page of Google? I get it; you're frustrated not getting results. That's why I'm breaking it down in simple terms. Learn these search engine optimization (SEO) basics to get started today. 
What is SEO?
First, let's make sure we're on the same page with how it's defined. SEO is the process of improving your website so that it ranks in the search engine results pages. It refers to non-paid or organic traffic from search engines.
The process of improving your site has technical and creative elements. Technical elements involve improving site speed or coding, while the creative elements can include anything from words on the page to user navigation. 
A website visitor refers to the person behind the screen that needs and wants something. Create content for people, or preferably your ideal client. If it makes their life better or solves a problem, and they find value in it, they'll read and share it.      
Major search engines include Google, Bing, and Yahoo.    
Why is SEO important?
Because clients can find you through search, Google now processes over 40,000 search queries every second, translating to over 3.5 billion searches per day and 1.2 trillion searches per year worldwide. That's a lot of stuff people search for. 
But, to return your website as a result of a query, search engines need to be able to find it. SEO makes that happen. 
While people can discover your site through social media or paid media like pay-per-click ads, search leads the way – most of the time. So add paid media to your overall plan. But, if you rely on it too much without an SEO plan, the cost can increase quickly.
Can I do SEO Myself?
With training and education, many people can understand SEO basics and improve their websites on their own. However, even a little bit of improvement can go a long way.
It's good to know how to apply SEO techniques from start to finish on a new piece of content, especially if you or your team add new content often.             
Like this post – free SEO education exists online. Know that it requires time and ongoing work to apply different strategies. Most of this type of improvement refers to the creative elements of SEO.
Improving technical aspects of your site requires web development and coding expertise and more advanced knowledge of SEO. Many firms, agencies, contractors, and freelancers offer different levels of support and specialties. In any case, knowledge is power. The more you know, the more you can decide what your business needs. 
How does Google work?
To improve your site, you've got to know how it works. 
When you Google something, it searches its index, not the internet. It returns pages it finds that best match your query. Think of the index as a filing cabinet where web page information is stored. And, in that filing cabinet, the index summarizes each web page. 
To create the index, Google has spiders that crawl the web and record information found on those pages. It looks at things like keyword phrases, links, page layout, and the URL name to help it find the information that needs to be recorded.    
What does this Mean to your Website?
Because Google's searching its index instead of the internet, real-time updates to your site won't appear in search results until it is crawled and indexed next. Unfortunately, that also means a new post or page won't appear in the search results until your website is crawled and the new content is indexed. So, for example, the minute you publish a new blog post, it's live on the internet, but not in Google's index.
To see when your site was last crawled, put cache:http://www.YourDomain.com into the Google navigation bar of Chrome, and it will tell you. 
Here's a screenshot of mine as an example:
Check this once in a while to know how your site performs. But, don't stress about the results. You can't control how often or when your site is crawled. So, instead, spend time on strategies that influence it, like regularly adding content to your website.
Create content consistently to help your site get crawled more often. When the spiders crawl your site, it monitors if there have been any changes. Then, it makes a note to come back and crawl the site a little sooner the next time. So, a news or media website may get crawled every few hours, whereas a static webpage that rarely has any changes may get crawled every few weeks or so.
That's why blogging as a strategy works well for SEO. It gives content for your site to get crawled more often, and it gives you a chance to attract clients. Plus, valuable content keeps your audience coming back. 
Be realistic with how often content gets published. Publishing daily or weekly might seem easy, but when you're busy, you can get behind. Unfortunately, Google will notice. It's always better to publish less often successfully than to have a hit or miss schedule. 
No matter if you only curate content monthly, bi-weekly, or weekly, make it great because publishing low-quality content every day just to get crawled more often causes more harm to your SEO than good.      
A site that has the best information presented in the most accessible way gets crawled more often. Therefore, create high-quality content for clients reading your site and a good page layout for Google. The page layout refers to the use of titles, sub-titles, links, etc. This creates the summary for the index. Provide Google as much information as possible so that it knows what your page is about.      
Good navigation makes the experience good for the user. Also, make the experience good for spiders crawling your site with a sitemap. A sitemap helps them access your content quickly. It lists the site pages in a structured format, similar to a roadmap. No one wants spiders to get off track! 
What About the Algorithm? 
The algorithm is Google's way of analyzing billions of web pages in a fraction of a second and providing you the answer you want. Imagine if you had to sift through a billion web pages. Yeah – you'd never Google anything. 
On average, Google changes its search algorithm 500 – 600 times each year. It uses over 200 factors to rank results. Factors include backlinks, keyword phrases, SEO titles, meta descriptions, and more. Knowing which ones Google prioritizes and where to spend your time is key to SEO success.       
With over 200 factors, it may feel impossible for your content to rank in the search results. Instead, get results by staying up-to-date with SEO and algorithm changes. With some knowledge and hard work, you can make a noticeable difference to your website. And don't be afraid to hire an expert when you need help.     
Because there are so many ranking factors to cover, we'll dive into some of the top ones in future posts. So, stay tuned. In the meantime, leave me a comment on what you learned in this post about SEO.
Ready, set, grow!
All my best,