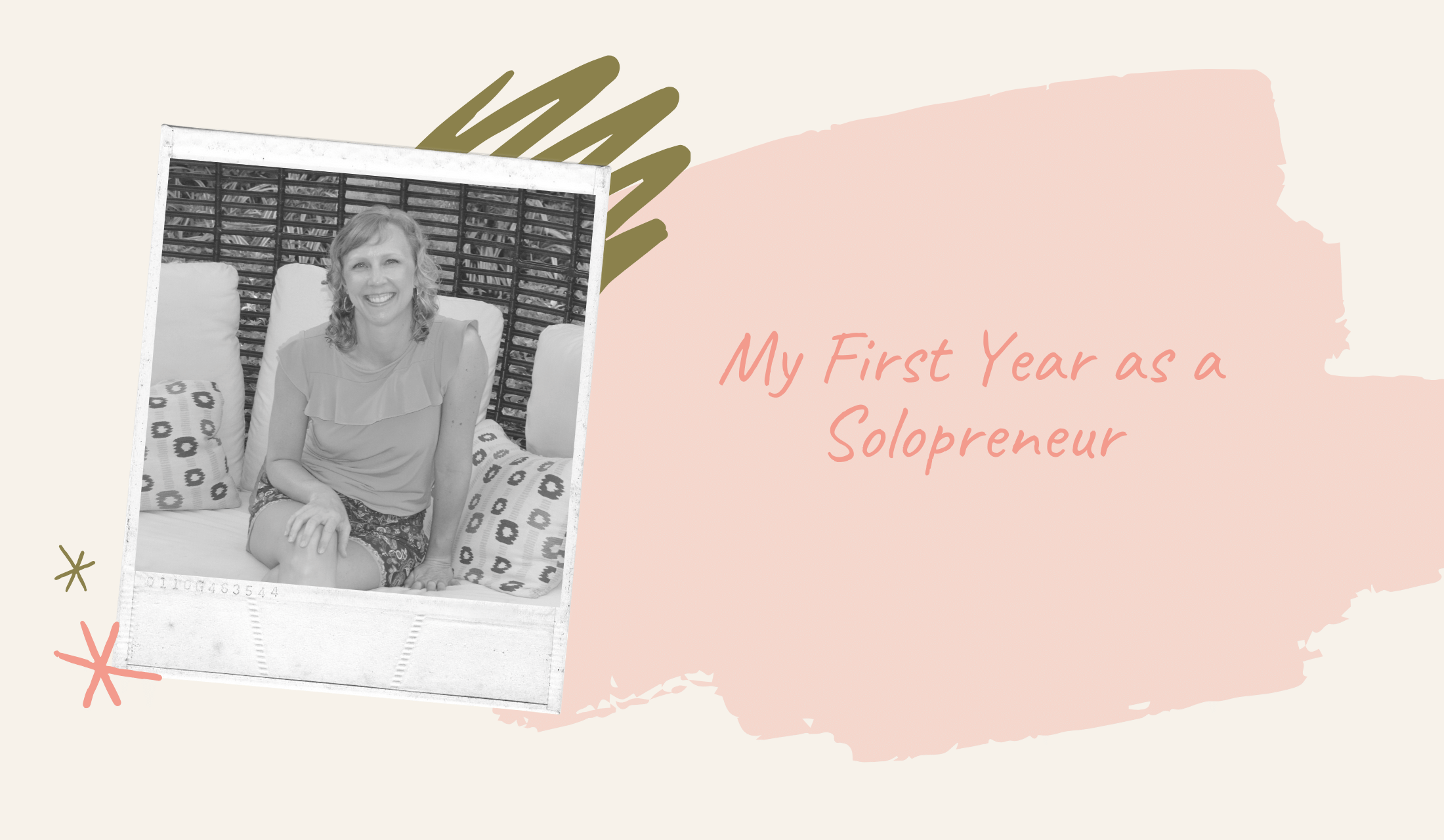 The moment I stepped into life as a solopreneur, I never dreamed what a year later would look like. And no one could have ever predicted what 2020 would bring with the COVID-19 virus and the aftermath. Fortunately, the pandemic hit precisely a year after I left corporate.
While I had that year under my belt, it made the next few months challenging. But in difficult times comes learning and real growth. 
That's why now is the right time to share what I learned after a year as a solopreneur. I hope what I learned will help you navigate the road less traveled for a prosperous first year.  
Seek Partnerships and Collaborations
At some point, a current or potential client will need something that you don't offer. You can handle the request in several ways. For example, you can refer them to another reputable business, decline the request altogether, or work with a trusted partner to provide the service. 
I have chosen the latter because I want to help clients get the marketing they need for their business. The skills required to execute effective marketing include branding, copywriting, graphic design, website design and development, ads management, and more. Unfortunately, no one person has every skill, and it's rare to find everything you need at an agency without paying higher rates.   
I use my strengths and what I'm passionate about to serve clients. Then, I partner with other entities for anything else a client could need.
Clients I serve don't have time to source and vet a vendor for every specialty request. They're too busy running their business and need my help getting things done well and on time. It's a win-win. 
While my marketing experience provided me with several good connections, I'm always seeking new partnerships for future projects. You never know what business will come your way.
Focus on Your Strengths
I'll never forget the first proposal I submitted to a client. I proposed to manage their social media, among other services. I felt terrified they would sign, and I dreaded I may need to do social media. However, they were expanding their office, and that didn't end up happening; I felt relieved. 
Now, the loss of that potential client taught me a lot – never propose something you dread doing. I thought I had to do everything a client needed to get the business. Or, another opportunity wouldn't come along. Unfortunately, I had it all wrong. 
What I hadn't done was set up some successful partnerships to offer clients aspects of marketing they needed. I worked through it the hard way. I also found that other opportunities would come my way, which would be a much better fit. 
Hire a Tax Accountant
The minute you become self-employed, taxes become more complicated than ever before. But, unfortunately, you can't hide from the taxman. 
Hire an accountant to help you navigate tax laws before you even get started on your business. Knowing how to separate your expenses, pay yourself, pay taxes, and the deductions you can take can help you get organized from the beginning.       
Also, knowing how much in taxes you'll need to pay will help you set realistic revenue goals. For example, I base my revenue goal on what I want to pay myself and my daughter, my monthly expenses, and quarterly taxes. That gives me a specific number. If my revenue is higher or lower, I can adjust the tax amount and then determine how that impacts the other categories.  
Track Your Productivity
You don't know how you're spending your workday until you track every task. Try it. It's shocking how much time you spend switching projects, checking e-mail, answering the phone, getting a snack, taking a break, and other essential tasks throughout the day. Not to mention water cooler talk – my husband loves to stop by my office door to share the latest news from his day.      
I didn't know where to start until a friend recommended using the Chrome extension Toggl. I installed it during my first few days as a solopreneur, and I'm glad I did. With hourly rates and bundled project pricing, I track my time for both. However, even with bundled pricing, I need to know precisely how long it takes to accomplish a project. That way, in the future, I can ensure I'm charging appropriately.   
At first, I had a hard time feeling a sense of accomplishment. I looked at my list of projects and time I clocked in a day, and it seemed like so little time. I'm also very fair about what I clock. For example, I stop my timer to answer the door for Amazon deliveries and other minor interruptions that's part of life. I track real-time, and a busy day looks like four or five billable hours when I'm working eight.    
So, I decided early on to look at it positively. I know how much time in a typical day I have for deep project work without any interruptions. I take that knowledge to organize my projects for the week and client work I can accomplish. 
Invest in Software
When I first started, I would only stick to the trial version of software packages. It was cheap. After all, I was nervous about the steady pace of client work. So, I kept my expenses as low as possible or at almost zero. 
But I ended up spending more time trying to redo work that could have been done quicker if I had the full version of the software I was using. Time is money. Now, you should try the software first to see if you love it before buying it. You'll know it when you feel the angst of needing the software and the free trial limitations block you. Don't get in your own way and invest in what you need. It will save you in the long run. 
Work on Your Business
Work on your business, not just in your business. I struggle with this one every week. I'm busy with clients because working on my business can be the first thing that gets left on the to-do list. Of course, it doesn't help that I'm the only one that notices I didn't accomplish my goal for a task left undone. 
But what I learned is that my business feels the impact. When the coronavirus hit and projects slowed down, I noticed I hadn't been working on my business to create a funnel of leads and other relationships to fill my empty time. At that point, it was too late. 
Keep a constant pace working on your business and guard that time. Don't let client work creep into the time on your calendar you have blocked for your business. I know it can be tempting.
Be Resourceful
You will experience highs and lows as a solopreneur. I prepared for the lows by building up my checking account. First, a financial safety net allows you to pay yourself when business is lean. Second, I pay myself the same amount monthly. That enables me to personally budget my expenses and know what salary I'll receive, just like I did when I worked for someone else. 
When business came to a slow halt during the coronavirus pandemic, I became resourceful. Since you couldn't connect with people traditionally, I applied for consulting and part-time gigs on Indeed, UpWork, and other marketplaces. I found success on Indeed because I could control the submission I prepared instead of the platform dictating the format. 
At first, I felt like using these platforms meant I had failed in my business. But I was wrong. I found that organizations use whatever platform or network is most comfortable for them to find the right talent. I just had to shift how I expected to connect with potential clients to realize that this wasn't failing but growing into the next step of my journey.      
Never Stop Learning
Learning comes in many forms, and it doesn't have to be a three-day course that takes a lot of time. For example, you could listen to a podcast while on a morning jog, read industry e-newsletters while enjoying your coffee, read a book while traveling or take a self-guided online course in your spare time. 
I stay current using a combination of ways to keep up with the latest in marketing. I encourage you to find what works best for you and your field.
Part of being a solopreneur is that you learn and grow all the time. When you think you have everything figured out, things change. So embrace it, and keep moving forward. You've got this. I wish you a smooth first year and much, much success. 
Ready, set, grow!
All my best,