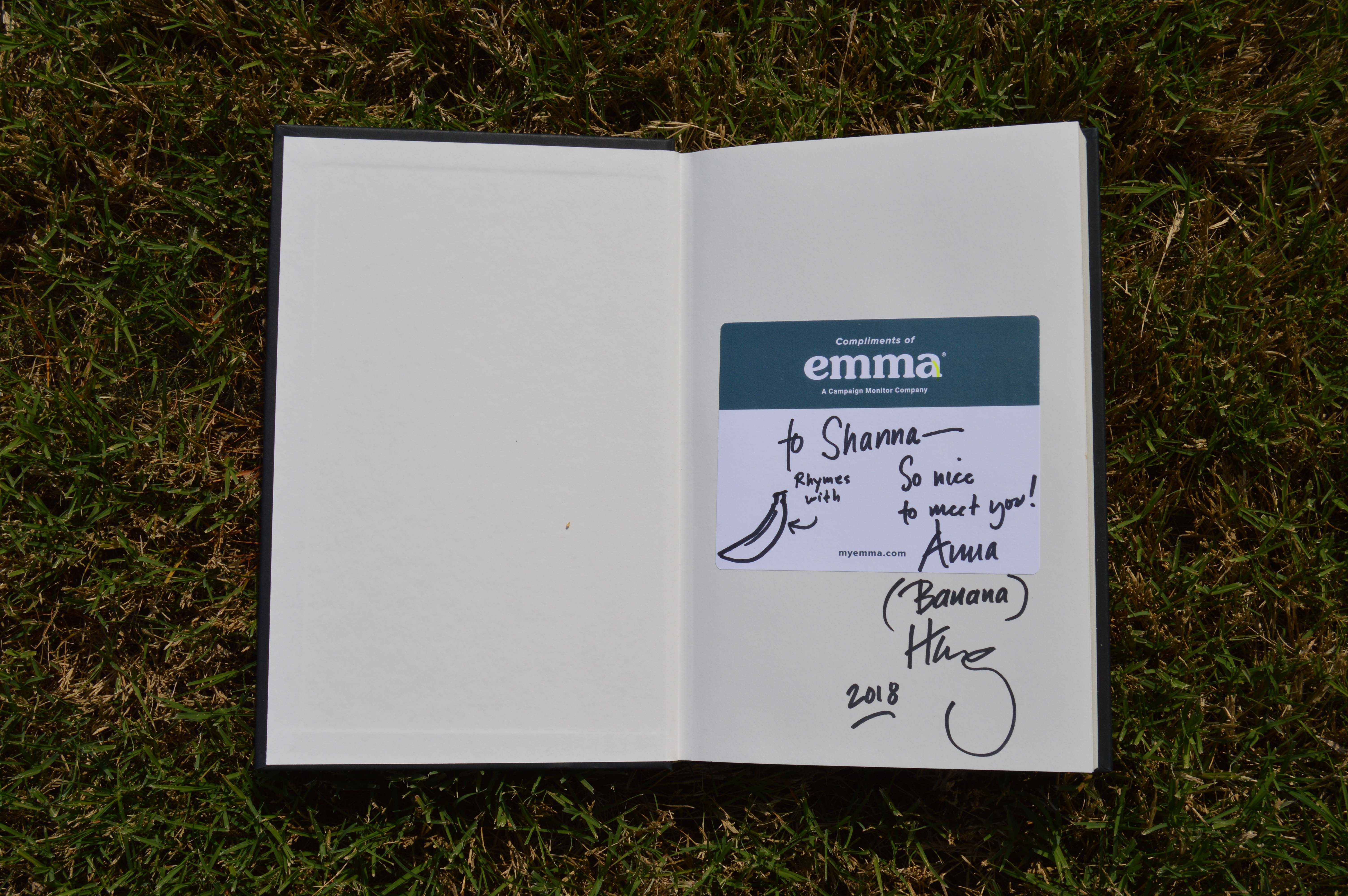 Based on "Everybody Writes" by Ann Handley
I fell in love with her writing as much as I loved meeting her in person. And, if you read her book, you will too. Ann's personality shines through in the warmth of her smile, friendliness of voice, and outrageous but stylish fashion sense. Her passion for educating others is contagious. Her book helped me write better. So, I'm sharing what I learned to help you improve your writing skills too. 
Join a New League
The title says it all. Everybody writes. E-mails, text messages, social media posts, blog posts, project plans, website copy, reviews, and resumes – the list is endless. 
What have you written in the last 48 hours? Unless you've been on a deserted island, you can probably check many off that list. For me, e-mail takes the biggest slice of my time. Even if you delegate some of those e-mails, others await your response.         
Sadly, we tend to think of those that "can write" and those that "can't write." Did you put yourself in one or the other camp before you even reached this paragraph? I caught you. I can virtually see your hand raising now.    
Many perceive "writers" as creatives with the natural ability to churn out a novel, blog post, e-book, or any other long-form piece without a drop of sweat. Wrong. Writing for anyone is work. And, just because everyone doesn't want to write doesn't mean they can't write.     
This book gives everyone permission to remove themselves from the "can't write" camp and join a new league where "Everyone Writes." Why? Because everybody writes something.    
Share Your Knowledge
After years of managing content strategy for the corporate world, I found that the leaders and operators in the company had the most knowledge of the business. But, unfortunately, they had no time to share what they knew, much less write about it. Plus, they typically put themselves in the "can't write" camp.
Now, imagine if they shared their thoughts and knowledge more often and could share the wealth of knowledge that they hold. Besides the marketing team doing backflips, others would read it because of the quality contained within the written piece.        
We all have some unique knowledge or perspective. You can inspire others, help them learn, or make them feel something – all with the words you choose to use. And, withholding your words is a loss for others – I promise.       
Choose Grace
Perfection keeps many from even starting, especially if you're a type-A personality – like me.       
People aren't looking for perfect writing. They're looking for authenticity. You are more human, more approachable, more relatable, and more loveable when you have flaws. 
People want to see a piece of themselves in others they follow. And, more and more, they're following real, everyday people. 
I've chosen grace for myself with the phrase, "Done is better than perfect." I'm my own worst critic in anything I do – writing is just one. Yet, it keeps me moving forward. I heard this phrase in several podcasts and articles and adopted it when I started Sprout Marketing. 
When I reached the end of the book, I found the Epilogue had the exact phrase, to my surprise. Thank you, Ann, for including it and giving us all the inspiration to keep moving forward. So, give yourself the grace you deserve. 
Tackle the Block
Writer's block is another fear for many. You open the computer or get a blank sheet of paper, and it's staring at you – white space. 
You can sit there for hours staring at the blinking cursor or blank sheet. One way to tackle this is to imagine you're talking to one person. That was Ann's tip. Ideally, this would be your ideal client or customer. Have a conversation with this person. What do you want to share? 
Start writing – whether that's electronic or with good old-fashioned pen and paper. Write in the time you've set aside. You can do the dishes, laundry, and vacuuming another time. I create blocks of time to get these things done so they don't become reasons that keep me from writing.           
Write Often
Writing is a skill. And, even with a little work, it can be developed. So, write often to sharpen your skills. You have nothing to lose and everything to gain. 
Ann said it best. "Writing well is part habit, part knowledge of some fundamental rules, and part giving a damn. We are all capable of producing good writing. Or, at least, better writing."
I write better with each passing day because I write often, and you can write better, too, the more you write. So everything you write is an opportunity to write better.              
Read a Lot
My mother and teachers were right when they said to read more. But, unfortunately, as a child, you rebel against anything they say to do. I'm experiencing this now with my daughter.    
I now make it a part of my routine. I read while drinking my coffee each morning. It's a quiet time of day, and I look forward to the silence and break before work begins.     
Educational videos, webinars, and podcasts are all the rage, but keep reading. Reading the work of others helps you determine what you like and don't with how thoughts, words, and phrases are structured. You learn to write better by reading.     
Serve the Reader
Serve the reader first. Who is the reader? Why do they care? Talk to them if you need to learn more about your audience and their pain points.   
Then, create an objective for what you write. It forces you to see if you're writing this for the reader or the writer.      
Here's a typical scenario:
Company XYZ is selling widget A. The marketing department receives the request to create a flyer that showcases all of the wonderful things about widget A and how great it is. So they craft well-written bullets selling the reader on the features and benefits and why it's so great. Add one clever headline, and insert a pretty picture of widget A by the graphics department, and it's done. 
Some would call this a sales flyer. I call this puking on the reader. Sorry for the visual. But hold the urge to puke. 
It's not about you; it's about the reader. What pain will widget A alleviate? How will it help them?
Fix this by creating a story that serves the reader, empathizes with their pain, and invites them into the story.    
Here's an example: 
We know how hard it is to find the right widget that fits your fixture. You've wasted time, money, and resources ordering widgets that won't work. Our new widget A has a flexible screw that holds any fixture. Order now to get the peace of mind you need that your fixture works, and you can move on to your next project.
Well, this isn't perfect, but you get the gist. In the second story, the objective changes from selling to helping their audience find peace of mind with a widget that fits their fixture. It empathizes with their emotional state.    
Science proves that we buy on emotion and justify with logic. However, we often position it differently in our marketing. Because our instinct tells us to sell, sell, sell. Serve first, always.                    
Make it Clear
Have you ever read something and had no idea what it meant? I'm not talking about legal documents and contracts. Have you read marketing collateral or visited a website, and then quit reading or left the site because you had no idea what product or service they offered?    
I'm a big fan of Donald Miller, author of "Building a Story Brand." In his message, he shares that if you confuse, you lose. Noise is the enemy, and clarity wins. He's right. 
Using internal language or sacrificing clarity to sound professional confuses the reader. If your readers' brain works too hard to figure out what you're trying to say, you've lost them. We live in a world filled with distractions to add more to the confusion. So, choose clarity.
It takes work to be direct, but it's worth the investment. 
Find Another Set of Eyes
I learned this the hard way. It never hurts to have another set of eyes read your work. It could be a colleague or friend or hire an editor for more important documents.   
My brain processes thoughts faster than I can type. Because I'm close to the information, I often think what I've written is clear and has a good flow. However, a fresh set of eyes gives me perspective and guidance when it doesn't. 
Have someone read anything you publish to the masses. And, even for e-mail, sometimes have another set of eyes review what you've written, especially if it's for clients or other important audiences.
My hubby Brad takes the top spot as my editor-in-chief these days. Thrilled with his new role at Sprout, he gives me the insight I need.          
Embrace the Ugly First Draft
Write the ugly first draft first, then edit it later. Before I read this book, I edited as I wrote. Since I battle perfection, this is the hardest tip to follow. I know this one will continue to be a work in progress. 
My goal is to complete a draft faster than the last time I wrote. It helps to write the outline, fill in any supporting ideas, and then write the ugly first draft. I know I'm stuck when I start analyzing my sentences and paragraphs to rewrite them better.        
I get the first draft written and walk away. Then, I wait until the next day to edit. I find it helpful to return to the first draft the next day feeling fresh and rejuvenated after a good night's sleep.  
I edit my work, read it several more times, and then my editor-in-chief reviews it. Finally, I apply the feedback he gives to any areas that need more work.       
Edit with a Process
To edit well, you need a process. I like how Ann breaks it down. First, edit with a chainsaw to improve structure and flow. Keep only what's necessary and what supports the main message. It helps you get more direct. Then, work on grammar, spelling, punctuation, etc. 
We tend to write more than is needed, so the first round of edits removes unnecessary stuff. Or, you may find that the flow doesn't make sense, and you need to add something. 
Luckily, the book has several sections on proper grammar, spelling, and other common errors made while writing. A refresher on when to use who versus whom or accept versus except comes in handy.
I also love that she permits you to break some grammar rules. You know the ones. They were silly in grade school, and they're still silly today. One example is to never begin a sentence with the words and, but, or because in your writing. Or, don't end a sentence with a preposition. Why not?  Sometimes it sounds better.            
When you're writing for social media or blog posts, it can take a conversational tone. Unfortunately, they sound awkward when following proper grammar rules. That's when it's better to sound more human and risk breaking a few rules for a better tone.        
I could write for pages on every great tip outlined in the book. But I hope sharing some of them I learned from Ann will help you improve your writing skills. While I only met her for a few short minutes when she signed my copy of her book, I hope she knows her impact with the written word is tremendous. After all, that's the reason most of us write anyway. 
Leave me a comment on your biggest writing challenge. I'd love to hear from you.         
Ready, set, grow!
All my best,